CultiPro DryRoom
The CultiPro DryRoom is divided by micro climates and utilizes laminar airflow technology. Our unique airflow system creates ideal drying conditions for various types of crops that are placed inside the CultiPro Drying Baskets.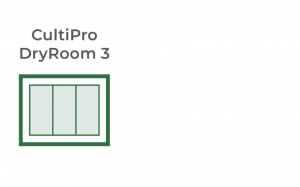 Placing these, for laminar airflow designed, baskets in the section divided machine, and using an completely closed and controlled drying system, the air is homogeneously spread throughout the machine by pressing it trough perforated radiators. As uniformity is key during the drying process, the temperature is per section controlled by the system itself.
The CultiPro DryRoom is not just drying your crop, it even accelerates the drying process to ensures a higher production and better production quality.
Key Features
Uniform dry quality
Superior production quality
Total O2, CO2 Control
Higher production to to accelerated dry process
Exceptional humidity uniformity
Perfect temperature control
Related Products
CultiPro Management System
The CultiPro Management System provides immensely valuable input for analyzing and improving the performance of your cultivation equipment.
Got any questions?
Our team is happy to help